Experience this place.
From the historic banks of the Assiniboine River, to ninety-nine acres of river-bottom forest, to a prairie farm and a scenic view of our new lake – there are many places to explore here.
River and Forest
This land, located on Treaty 1 territory, is the traditional land of the Anishinaabe Peoples and homeland of the Metis. It has been a source of sustenance and life for thousands of in habitants (of the human and non-human kind) since the receding of the glaciers some 10,000 to 12,000 years ago.
With 6 km of trails to explore, guests can hike, walk, ski or snowshoe along paths that follow the Assiniboine River or journey into the heart of the forest where rich fern groves and a diversity of trees & animals make their home.
Farm
Has it been awhile since you've been to a farm? Come see our horses, rabbits and chickens. In late spring and early fall you can also visit our garden and taste a sampling of the vegetables!
Lake
Nestled in between the horse pasture and forest is a new 4-acre lake for water sports and swimming! We have further plans to develop a walking trail around the lake, install BBQ's and picnic tables and a waterslide. Future developments in the area will include a monarch butterfly trail, dragonfly breeding grounds, a prairie grass field and a rec field.
We have facilities for large groups, small groups ... every kind of group!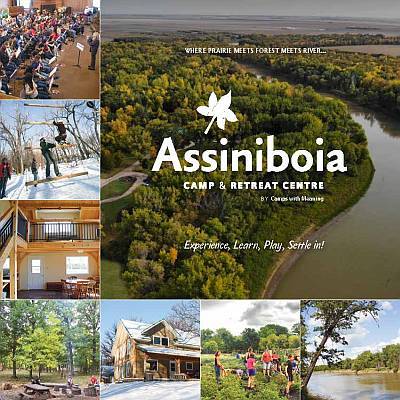 The Rental Rates
2024 rental rates coming soon.
For More Information
carentals@campswithmeaning.org
Or call:(204) 864-2159 and choose the "rental and guest services" option.
Pay for your rental